This product is limited to 1,000 units, and it is expected to be delivered within 7 business days after order payment is completed (please follow the expected pickup date in case of consecutive holidays).
|Kanahei's small animals X Nantou Good Travel limited edition collaborative card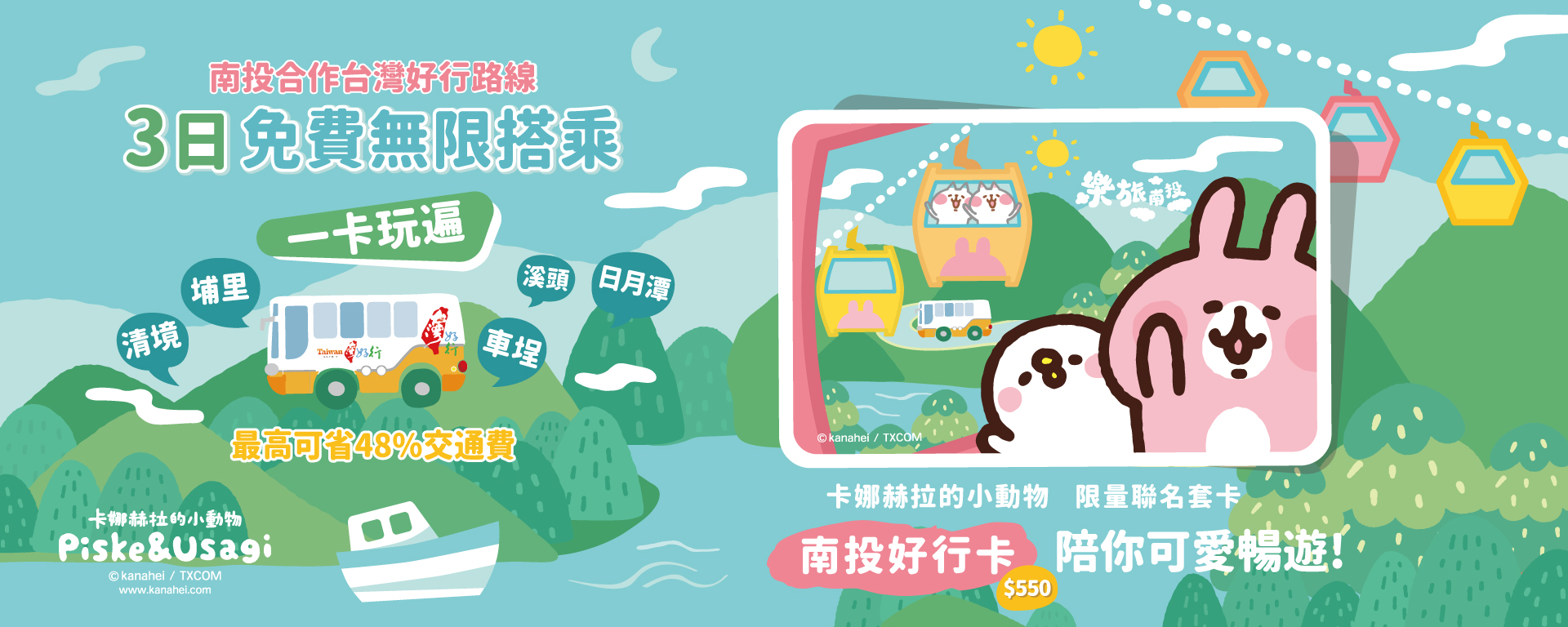 |3 Must-buy Reasons
① Enjoy smooth transportation and save up to 48%!
Enjoy unlimited rides for 3 days on the Taiwan Tourist Shuttle cooperative routes within Nantou.
②Must-Visit Attractions in Nantou X Six Featured Taiwan Tourist Shuttle Services Routes
Covering Taichung TRA, HSR transfer stations, and scenic area shuttles~ Easy departure with zero burden, play more and save more!
③Enjoy Nantou with Kanahei's small animals - Exclusive Commemorative EasyCard
Can be used as a daily EasyCard, extending the beautiful memories of Nantou travel.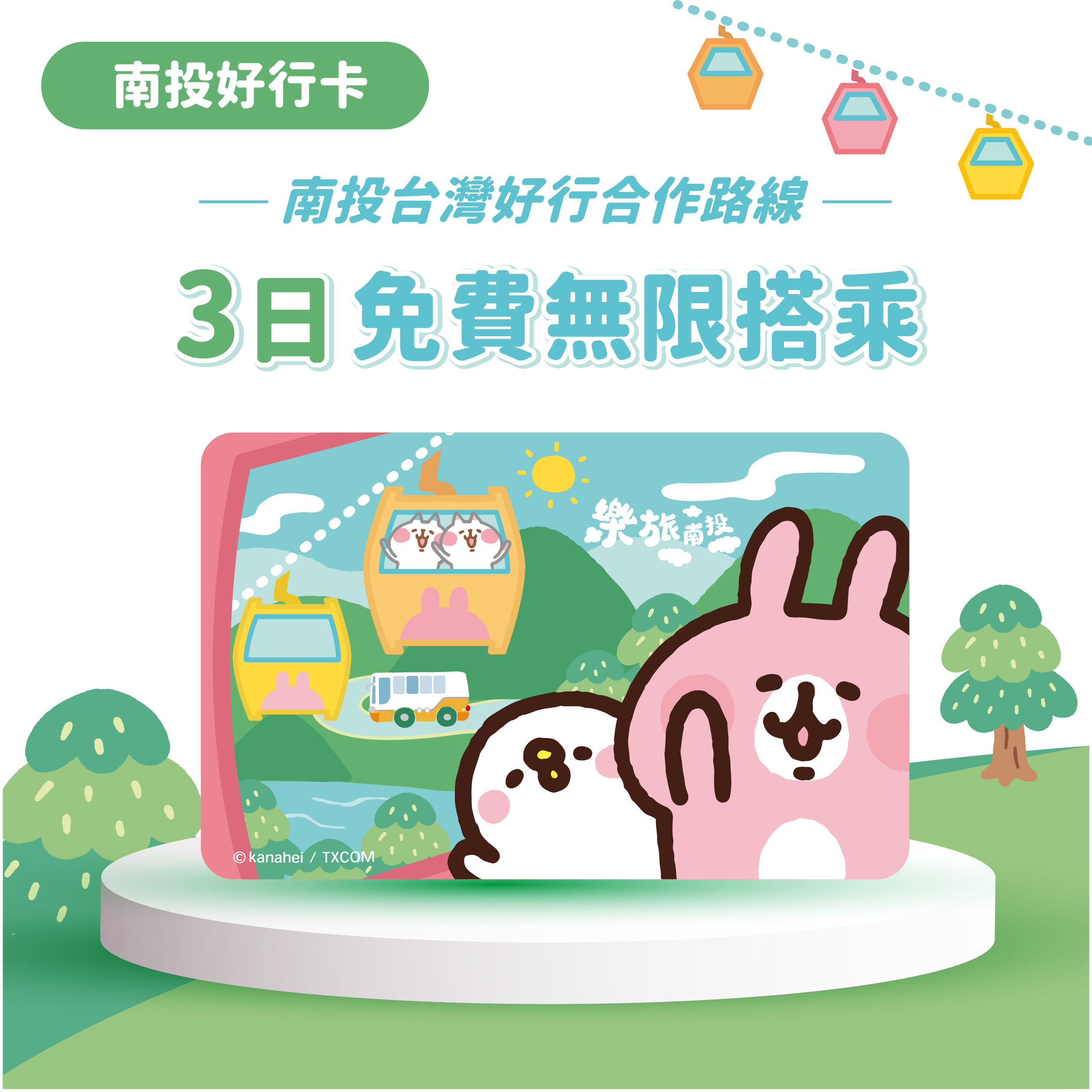 |Explore Freely with One Card on 6 Featured Taiwan Tourist Shuttle Routes
Taichung Transportation Transfer Station x Sun Moon Lake x Cingjing x Puli x Xitou x Checheng
Xitou Line
The Taiwan Tourist Shuttle Services Xitou Line is a shuttle bus service specially designed for Xitou travelers. It provides transportation for travelers from major TRA and HSR stations near popular tourist attractions in Taiwan to Xitou. For travelers who prefer not to drive long distances or join organized tours, taking the 'Taiwan Tourist Shuttle Services Xitou Line' is the most suitable and convenient way to plan their own itinerary and travel with ease. It also aligns with the new trend of energy-saving and carbon reduction in tourism.
Puli Line
The Taiwan Tourist Shuttle Services Puli Line primarily departs from key transportation hubs in Taichung (TRA, HSR), travels on the highway directly to Puli. We hope to provide direct access to Puli Station for external travelers through both rail systems. In addition to exploring the classic town of Puli, tasting local delicacies, and experiencing alley culture, travelers can also use the Puli Transfer Station to connect to other Taiwan Tourist Shuttle routes such as the Qingjing Line and Sun Moon Lake Line to visit various tourist attractions along the way. This facilitates visitors' easy access and enhances their willingness to travel to the Great Puli area (Puli Town, Yuchi Township, Ren'ai Township) for tourism, further promoting Puli Town as one of the classic towns recognized by the Ministry of Transportation and Communications for tourism.
Sun Moon Lake Line
The Taiwan Tourism Shuttle Services Sun Moon Lake Line is operated by Nantou Bus Transportation Co., Ltd. The route starts from Taichung Gancheng Station, passing through Taichung Train Station, Daqing Train Station, Taichung HSR Station, and other important transportation hubs. It goes through attractions such as the Niuer Stone Carving Park, Puli Winery, Chung Tai Chan Monastery, National Chi Nan University, Paper Dome, Antique Assam Tea Farm, and Formosan Aboriginal Culture Village. Finally, it reaches Sun Moon Lake (some trips continue to the Xiangshan Visitor Center). Before arriving at Sun Moon Lake, visitors can explore the aforementioned attractions and experience the charm of Sun Moon Lake's natural ecology and industrial culture.
Qingjing Line
The Taiwan Tourist Shuttle Services Qingjing Line is one of the routes heading towards Hehuanshan. It departs from Puli Terminal. Traveling along the Qingjing Line, you can witness the scenery ranging from low to high altitudes. You can visit the Green Green Grasslands to see sheep shows, and even plan a two-day, one-night trip to the 'Dark Sky Park' to stargaze. If you wish to breathe in fresh mountain air, take the Taiwan Tourist Shuttle Services - Qingjing Line!
Checheng Line
The Taiwan Tourist Shuttle Services Checheng Line operates between Sun Moon Lake, Shuili, and Checheng, racing through the embrace of the mountains. Along the way, it passes by the Crescent Bay, Shuishe Dam, and the Xiangshan Administrative Center, offering a panoramic view of the waterfront charm at the heart of Taiwan. It also includes unique educational centers, Wuden Community, and Snake Kiln, where visitors can participate in rock climbing or tree climbing courses, explore the environmental mysteries of the Wuden Community basin, and experience the joy of pottery. Finally, it leads travelers to the most beautiful wooden train station in Taiwan, 'Checheng Station,' to feel the serenity of the 'Last Station.' The 'Taiwan Tourist Shuttle Services Checheng Line' connects Sun Moon Lake and Checheng, allowing transfers to the Taiwan Railways Jiji Line at Checheng to reach Jiji, Longquan, and other stations, providing an experience of the unique mountain city's secrets.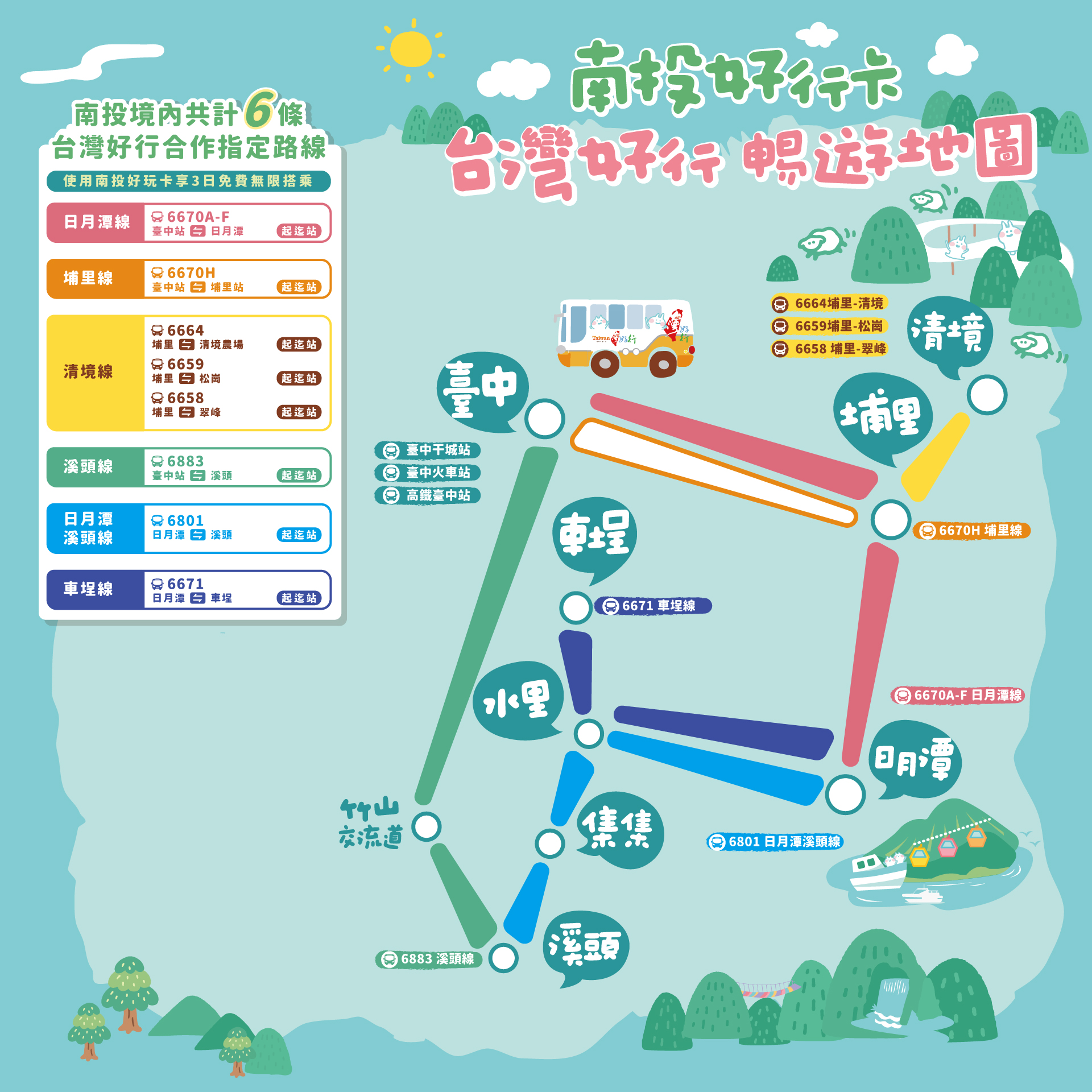 ▲Download the map:https://nantou.welcometw.com/upload/transportation-pass/img/map.jpg